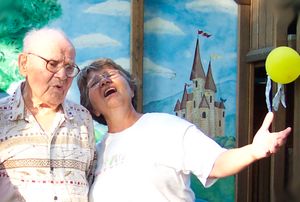 My mom Sandy and my Grandpa Vern Oftedahl
A Hero Steps In... 
The Night Dad Left 
When I was 12 my dad left. Now when I say left, I don't mean sat us down, had a long talk about how my parents marriage wasn't working, found a new place, gave us directions to find it and moved out. I'm talking, just left. In the middle of the night, told my mom he was going to California to help out an old friend and just never came back. The next day, I grew up. I had to; my mom now had to get three jobs to support my sister and I. I had to cook, clean, and fend for myself. they used to call them latch key kids. 
Luckily for me, I had a great grandpa who just lived 8 or nine blocks away. I'd always loved music, but in my family it was well understood that music was definitely not intended to be a full time career. And now that my mom was alone and I was "the man of the house" at 12, I knew that my job was to make something of myself so that my mom would always be cared for. I used to go over to my Grandpa Vern's house often. He was an amazing guy. From the time I was as little as I can remember my grandpa would put us grand kids to sleep at night with same two things. A hot water bottle for our cold feet (Grandma never like to heat the upstairs) and a story about World War Two from Grandpa. 
My grandpa was also a musician. He played trumpet with Wayne King and Gene Krupa's big bands in the late 30's. He was very good and some even told me one of the best. Although he never got rich, he made a good income for a time. Then WWII started and he eventually felt strongly that he needed to sign up and go to war like so many others of his generation. Grandpa was older than most the new recruits at the time and had two kids at home, my mom Sandy and my uncle Bob. He went to basic training and then almost immediately sent to the Battle of the Bulge. 
Grandpa's War Story  
During the winter battle grandpa said that many of his friends got trench foot or frostbite. The fighting was fierce and it wasn't long before his entire unit ran out of ammunition. The Germans knew that the unit was weak and so they loosed a hailstorm of bombshells onto their location. My grandpa said as he looked out of his foxhole trees would splinter like toothpicks, he'd hear the screams of the dying and injured all around him and then he says a miracle happened. As he looked up into the sky amidst the broken and splintered pines, he saw the image of God in a red robe with his arms outstretched. He never saw his mouth move, but he heard his voice say, "For lo, I am with you always!" 
When the image disappeared, the shelling stopped and you couldn't hear a sound. He popped up out of his foxhole and yelled out to the other soldiers, "Is anyone out there!" He heard many voices yell back affirmation. Then he told all the other soldiers to take their rifles and break them on a tree, because he said, "That way the Germans can't use them!" My grandpa knew they were coming soon. 
When the Germans found Grandpa's unit in the woods, they found them unarmed and with no ammunition. I guess they were not happy about this and took out their frustration on many of the soldiers. Most of the wounded were shot and those that could walk were made to get in a long line. They were stripped of their clothes and given German uniforms and boots with paper soles. And then they marched. And marched. They marched for hundreds of miles in the freezing winter. The boots with paper soles quickly got wet and rolled up and fell off in the snow and ice. Men by the dozen were dropping from frostbite to their feet. They were only occasionally given sawdust bread to eat, so many of them ate whatever they could find along the road like old apple cores, road kill and other horrible things. When a soldier would drop and could no longer walk, they were shot. My grandpa's excuse for surviving frostbite was that he just wiggled his toes alot. But my grandpa lived the rest of his life with disfigured toes from the experience. 
For awhile the American planes would fly over head and they would strafe (shoot at) the prisoners because they were dressed in German uniforms. Until one day when some of the men used their Jackets to spell POW in the snow. Grandpa said the planes wagged their wings and never came back after that. They walked until they came to a railway station. They were loaded into boxcars and packed in like sardines. Grandpa said they were made to sit "indian style" in long rows so that one man's hands would be praying on the man's back in front of him. They ate nothing the entire trip. Since the Americans were constantly trying to disrupt German movements, they would strafe the railroads often. On one occasion grandpa said he was praying, and while praying he felt his head be pushed to the side by an unseen force, and as this happened a bullet from a plane tore through the train, over his right shoulder, through the knuckles of the guy in front of him and into the back of the next. Many soldiers died from those raids. 
When the train eventually stopped they were unloaded and forced into a large concentration camp that was surrounded by fence and barbed wire. Grandpa said almost immediately off the train he saw one prisoner pushing and fighting with another smaller prisoner. Grandpa said since he'd just gotten off the train, he felt a sense of strength he hadn't known in days. He walked over to the bully and asked him to stop picking on the guy and to pick on someone his own size. The British man was very large and asked grandpa what he was going to do about it, and then called him a "Gold Brick". This was a term they used to describe someone who is a coward and "pampered too much". Grandpa wasn't sure what he should do, but when the Brit took a swing at Grandpa he did the only thing he could do. He grabbed him around the waist and wrestled him to the ground, when he had him on the ground he took his head and repeated beat it against the dirt until grandpa asked him, "Do you give?", and the bully gave up. Grandpa stood up, and turned his back to walk away, and when he did this the man jumped him from behind and as grandpa says, "beat him bloody." After he was dragged to the barracks to recover some of the other Brits told him he should have been more careful with that guy. Grandpa ask them why and they said he was a golden gloves champion back home in Britain. 
Grandpa spent many, many months in the concentration camp, barely surviving on sawdust bread, potato peeling soup and whatever meat hey could catch in the corners of the barracks. Grandpa was 98lbs when he noticed the sounds of the German soldiers rushing to leave the camp. Not long afterward, American soldiers came and freed them all. 
It took Grandpa awhile to return from the war. He needed to get his strength back, do some rehabilitation and get released. But things were different. He was different. Although he still loved to play trumpet, he lost all his teeth due to malnutrition. He was fitted with dentures and still needed some time for his feet to heal. Although he continued to play taps for the VFW and around the house, he could never play to the level he used to play before the war. And yet, even though he gave up so much, so many gave so much more. My grandpa was obviously a hero to me for lots of reasons. He went to war selflessly to save the rest of us. He sacrificed his teeth and his musical career and passion. And he stepped in to be my dad, when my real dad left. 
One thing that I have learned now that I am a dad, is that being a dad doesn't always mean giving your kids everything the want. It doesn't even mean you're going to always be able to give them everything the need. But its important to be there. Woody Allen once said "80% of success is just showing up." Well, Grandpa, Thanks for Showing up. 
~ Scott Wilcox