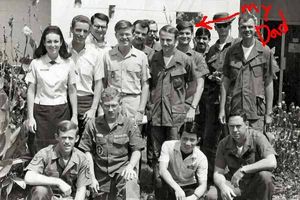 I was lucky in many ways.   I grew up in a family of musicians and entertainers.  My father was a popular disc Jockey in the 1970's. He got his start in radio while in the Air Force during Vietnam. I had the chance to meet many big stars and have many adventures.  My grandpa was a trumpeter who played in big bands in the late 30's with Wayne King and Gene Krupa. So I had plenty of family members in the entertainment business but each of them felt that they never realized their true potential and were a little bitter at times.  All my life I was told that music is a hobby - don't quit your day job.  As a kid, you listen right? So I did what my parents asked me to and I got a degree and then a "real job".  
I worked in advertising for about 20 years until the stress eventually got to me and a friend suggested going into teaching.  I liked working with kids so I spent two years to get my masters in special education. After getting my degree, I began to work at a small school in SW Wisconsin as a special education teacher.  I loved teaching.  Everyday I got out my guitar in the morning for a little bit and played a short song for the kids.  I would then tell them that they should make sure to use their talents and find their calling; and when they do, pursue it with all their passion and soul.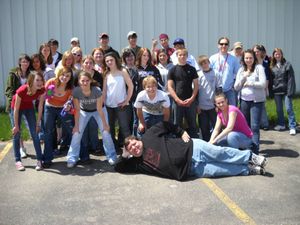 One days a student came up to me after class and said, "Mr. Wilcox, you're my favorite teacher, but I think you're a hypocrite."  Of course I was taken back by this and paused a second to catch my breath.  When I asked why he thought so, he told me this, "Everyday you come in here, play a little guitar for us and then tell us to find our calling.  Then, here you are, with all this musical talent and you are doing nothing with it.  Doesn't that make you a hypocrite?"  I laughed, partly because I realized he was right, and partly because I was so proud that he used the word correctly.  After a short talk, I agreed to take some time the next summer to try and out a show together and play a few places, to see people's response.  then if it went well, I might consider doing it on the side. 
That Summer, I got some gigs and started playing out.  After about three weeks, my wife and I had started watching the new Oprah Lifeclass show on TV and we liked it quite a bit.  She asked me to check out the website one night and while I did, I got an idea to send in a song that I would write especially for her and the show.  I sent it in at about 11 o'clock at night and thought I'd never hear anything of it.  three days later I got a call on the phone, and it was a producer from the show who asked me if I wanted to sing my song live on the Oprah show for Oprah.  And of course I said yes.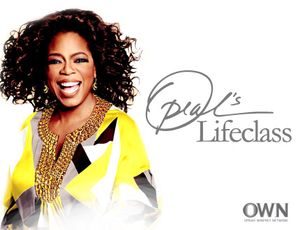 So many people ask me; "How did being on Oprah affect your music career?"  I like to correct them and says, the real question is how being on Oprah has changed my life. (For the record, I found Oprah to be just as amazing as you would think she would be.  She was kind, gracious and down-to-earth, in fact, I might even says, very normal!) Before being on Oprah, as I said, I believed that being a musician wasn't something that someone could do for a career.  I had begun to believe in all the reasons why I couldn't follow my dream, such as; 1. I was too old, 2. I was overweight, 3. I was from a small town, 4. I wasn't good enough... and on and on.
Strangely it hit me the day after I was on Oprah all the reasons why I couldn't do something, no longer made sense.  The answer to every question was, "wait, I was just on Oprah Winfrey!" ("I can't because I'm too old... Wait I was just on Oprah!") And if she believed in me, maybe others would too. I made a vow then and there to change all the things about my life that I didn't like.  Starting with my new music career. After Oprah, I just stopped saying no to opportunities.  
The next year I won the Bob Dylan Songwriting Award then again the year after that.  The next year I was a semifinalist for X-Factor (then tanked before getting on TV, lol), I performed on NPR's Big Top Chautauqua and Simply Folk, I won the Dream Night Talent Search ad Was a semi-finalist for the Overture Center's Talent Show, then a few years ago I was asked to sing in a Superbowl commercial with Seal.  My purpose is not to brag about my accomplishments, but to have you understand that for years I thought that there were many reasons why I would never succeed.  I felt as though I had a glass ceiling above my head which constantly reminded me that "this was as far and I would ever go." But then after I was on Oprah it disappeared. Being on Oprah didn't make me a better musician. It didn't make me suddenly famous. It didn't make me better looking.  But it made me realize that the only thing holding me back for all those years, was myself.  I was afraid to fail.  
What was strange was that I should have been used to it, I'd failed thousands of time and got used to having to just get back up and try again.  But for some reason music was different; more personal. When I lost my fear, I gained limitless potential that I never thought possible.  And so I continue to try, regardless of whether I fail or succeed.  Because in the end it doesn't matter either way, I'm still going to keep trying. 
In the comment below tell me your stories of struggle and triumph.  ~ Friends not fans. You guys Rock!