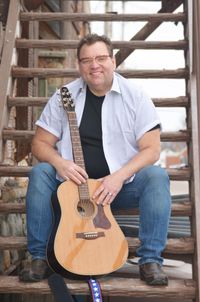 A good songwriter should be more than just a catchy melody played in the corner of the room.  A good songwriter makes you feel something.  A great songwriter will give you a memory you will never forget. 
I'm a guy blessed with the opportunity to live the dream.  I play music, full time, for a living, but this wasn't always the case. For many years I was in marketing and advertising.  I created radio and TV ads for some of the nations biggest companies and I was pretty good at it. But I wasn't happy.  I wanted to try something else; something that allowed me to connect with people and change their lives for the better.  I went back to school, got my masters degree in education and taught special education for 5 years. I loved being a teacher and l loved affecting the lives of middle school students.  Then one day a student approached me and told me something that again changed the direction of my life.  The student said, "Mr. Wilcox, you are my favorite teacher, but I think you are a hypocrite."  I was of course shocked, but I felt it necessary to ask him why.  He said that every day I would play guitar at the beginning of the day for my students and tell them that they need to find their calling in life.  Then when they find it, pursue it with all their heart and soul.  But somehow he thought I was not following my dream.  Hence making me a hypocrite. 
I thought long and hard about this.  In the end I realized that he was right.  You see, for my entire childhood, all I ever wanted to be was a rockstar.  I know, it sounds crazy.  My parents both had experience in the entertainment industry and because they knew how tough it was, always told me.  "Scotty, music is a hobby, don't quit your day job!"  So I didn't.  For 30 years. 
When I returned to school the next day, I made a deal with my student.  I said I'll try to book some shows and see how it goes.  Three weeks after I started playing out, I wrote a song and sent it into the Oprah Winfrey Lifeclass Show.  Three day later I received a call from the producer of Oprah's show saying that Oprah loved the song and that she wanted me to sing it on her show. 
Life doesn't usually happen like that.  But this time it did. 
Since then I've won the Bob Dylan award twice and sang in a Super Bowl  50 commercial with Seal.  All because a student called me a hypocrite.  The lesson: Don't let anyone tell you who you are supposed to be.  Only you know your path.  Listen to your own voice to guide you. 
~ Scott Wilcox 
   For booking email Scott Wilcox at songwriterscottwilcox@gmail.com